Day #1: Your favorite character: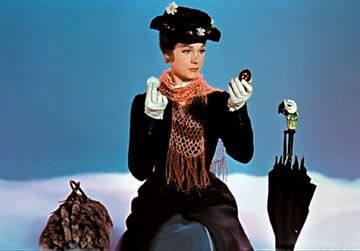 Mary Poppins. I've read the books, absorbed the movie, and seen the stage show
9 times
. I love absolutely all versions of this character, the sweet and loving (but stern) Julie!Mary, the prim and strict (but forgiving) book version. And the stage version is a combination of the two.
She is also the last half of my user name, making this a really easy choice. She's practically perfect, except for a few flaws. This HBIC is as vain as Narcissus and she's got tons of self-esteems. A wonderful role model. If you wanted to be a nanny and do magic tricks. Or go where the wind takes you and always use your imagination. Yeah, that's a better example.
Stay fierce, Mary. <3
Day #2: Your favorite princess:
Day #3: Your favorite heroine
Day #4: Your favorite prince
Day #5: Your favorite hero
Day #6: Your favorite animal
Day #7: Your favorite sidekick
Day #8: Your favorite villain
Day #9: Your favorite original character (Mickey, Minnie, Donald, Goofy, etc.)
Day #10: Your favorite song
Day #11: Your favorite love song
Day #12: Your favorite villain song
Day #13: Your least favorite song
Day #14: Your favorite kiss
Day #15: The first movie you saw
Day #16: Your favorite classic
Day #17: Your least favorite classic
Day #18: Your favorite Pixar film
Day #19: Your least favorite Pixar film
Day #20: Favorite sequel
Day #21: An overrated movie
Day #22: An underrated movie
Day #23: A movie that makes you laugh
Day #24: A movie that makes you cry
Day #25: Your favorite scene from your favorite movie
Day #26: Saddest death
Day #27: Your favorite quote
Day #28: Your favorite theme park
Day #29: Your favorite theme attraction Series
Day #30: Your favorite theme park show
So, I've decided to get into the groove of posting more. So I'm gonna do this Disney meme! I've never tried one of these 30 day memes before, I hope I complete it. No, really.
Current Mood:

busy