Day #9: Your favorite original character (Mickey, Minnie, Donald, Goofy, etc.)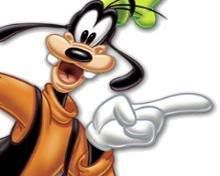 Oh, Goofy. You can't get anything right, but I love you anyway. <333
Day #10: Your favorite song
This song has so many layers, it has foreshadowing, exposition, and a great ensemble. This song is genius, by far my favorite Menken/Ashman song. While I wouldn't say I listen to it more than others, I can't stop listening to it if it pops up on my iPod.
Day #11: Your favorite love song
Another Menken song. I don't have a preference
at all
So my mom is getting in at 7AM! And then we're off to do fun stuff, IDK what.
Current Mood:

sleepy