HOWEVER, there's always been the magical, legendary weather in the East Coast/South. I've never really concerned myself with it, but I've heard tell of hurricanes and lived through a snowpocalypse personally.
today, I saw heard witnessed a tornado.
So there I was, chillin
I had just come back from the grocery store, and I beat the rain, I was totes pleased with myself.
It started to rain. Hard. Then it started to hail. I can see the wind. It's colorful. THEN, I hear a loud crack and I asked my roommate "What was that noise?"
My roommate looked out our window and she was like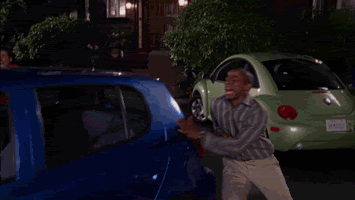 "JESUS CHRIST IT'S A TORNADO GET IN THE
CAR
BASEMENT"
And I was like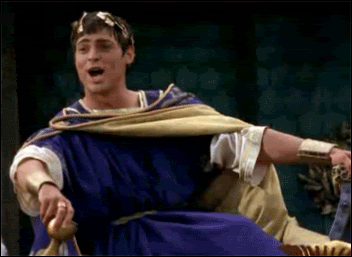 AND
PSA:
These are not the reactions to have when your roommate (from Oklahoma) tells you that you have seconds to get to the basement.
We rush to the basement, and things are cool. BUT the ten story tree from across the street broke in half and went into someone's garage. LUCKILY, no one in our area was hurt, BUT now I know to listen to my roommate. She was not joking. And it's really lucky that I got home when I did, because this happened about three minutes after I got home.
Baby's First Tornado! (I'm really getting short on baby's firsts here)
So, I grew up in Northern California. California has two distinct weather changes: Warm and slightly less warm. I've been in a lot of earthquakes and so much fog.
The theme for my dessert bar is ~*upscale comfort*~ because doing the bakery option would be too easy for me. Everything will be in tiny portions (the pies would be about four inch rounds) and there's a lot to critique here. Feedback appreciated!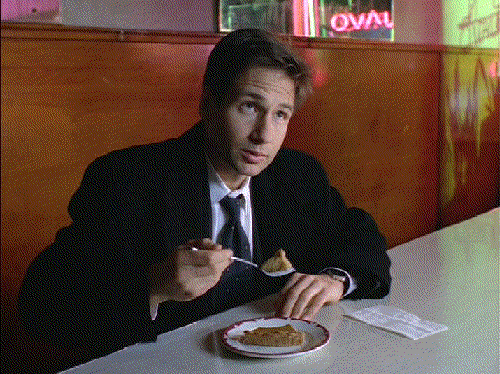 Mulder is also appreciated.
Apple pie with Gruyere, served with pear sorbet and lemon coulis
Chocolate pudding served in a tart shell with whipped cream and pomegranate seeds
Carrot Cake served with Almond Ice Cream
Sundae: Brownie, ice cream, topping assortment, and whipped cream w/ cherry
Chocolate Mousse in Chocolate Cup, w/ Malted Milk Ice Cream, Whipped Cream
Triple Berry Pie with Lime coulis and Vanilla Bean Ice Cream
Texas Pecan Pie w/ Coffee Ice Cream and caramel sauce
Pear-Apple Cobbler w/ Orange Sorbet
Mini Cupcake trio served with choice of buttercream
Mandatory desserts, not to be made for the class
Seasonal Fruit and Ganache Dessert
cheese plate: FRAK
Cookie plate- Oatmeal-Raisin-Cranberry, Chocolate Chip, Peanut Butter
Ice cream assortment- Vanilla Bean, Aztec Chocolate, Mint Cocoa Nib
Sorbet assortment- Dark Berry Sorbet, Clementine Sorbet, Cranberry Sorbet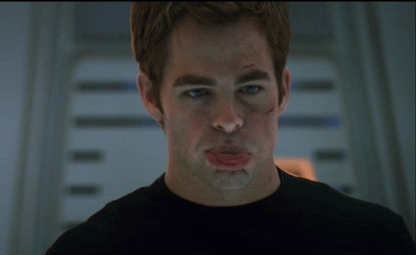 So my rough draft for my menu project is due tomorrow. At the end of the month I have to make two selections from here (Chef's Choice) for the entire class. I hope he picks the first two. I have one glaring hole, and tonight I'm going to finish the cheese plate.
I'm so ready for school to be over because then I can get rid of some crazy students in my life. I don't like rude and negative people, and this class is filled with them. I won't waste my time telling you about it, but it's why I haven't been around as much. If all I can say are negative things about people, then why am I updating? IDK, it's just not my style.
BUT there are some CRAMAZING people in my class and I will not let go, Jack. They're nice, talented, funny, and why can't we all just bake cakes filled with rainbows and smiles like we used to in middle school?
I ALSO DECLARE A KNIT/CRAFT DAY. WHILE WATCHING THIS.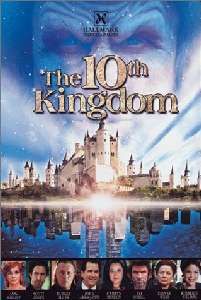 You are either thinking one of two things: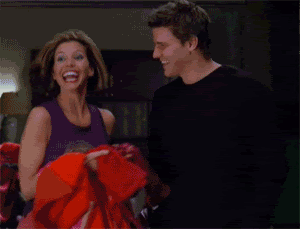 Or:
10th Kingdom is a miniseries that is
8-ish
eleventy bajillion hours long and it is AWESOME. It's set in NYC/Fairytale Land gone wild. I think we should get together and all fall in love with Wolf.
Maybe I'll make a bullet point entry of fun facts in my life later, but now I just have this mini-update, and to just say that I miss my BBs.
I also wanted to bake today, but I was out of eggs, and I can't tell you how much of a hassle it is to get eggs from my new grocery store.
Anyway BBs, ILU and I'll give better updates in the future when my life is more interesting.
FYT cause I feel like spinning: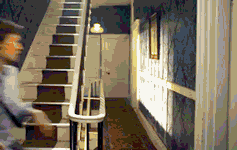 Last question: Does anyone have any cute headband patterns? I can: k, p, yo, S1, PSSO, and k2tog.
So, it's been a while. I keep trying to update, but mostly my lj time is filled with random comment replies to your entries.
Current Mood:

content
School has been going well. I've been getting great grades and the chefs like me. I've done everything I really have a passion for in the school's curriculum, so now I'm just marking time until graduation. Level 3 doesn't really sound fun, and next up is the Sugar section, and I'm not looking forward to that AT ALL.
It's all about blown sugar and sugar molds and stuff I will not want to do the rest of my life. But if that's your bliss, then follow it! It's just not for me.
HELP ME BRAINSTORM TOY IDEAS FOR MY SUGAR PROJECT! PLEASE!
So I have to make a cake, cover it in fondant, make an elevated stand (out of sugar), and make three boxes out of sugar. And our theme is "Toys" I could use some brainstorming help, BBs.
Previous examples
here
and
here
I'm still doing an apartment search, I have to move out August 1st. I'm just really stressed about the whole situation, trying to find a decent place off a decent train, making sure it's safe, the usual. I've found great places, but they can't have cats, or the train is terrible, or it's not by a grocery store. I just really need to find a good place with a nice kitchen.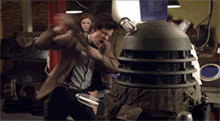 MY LIFE IS HARD AND I WANT TO BEAT UP A DALEK.
FYT CAUSE I LOVE YOU ALL: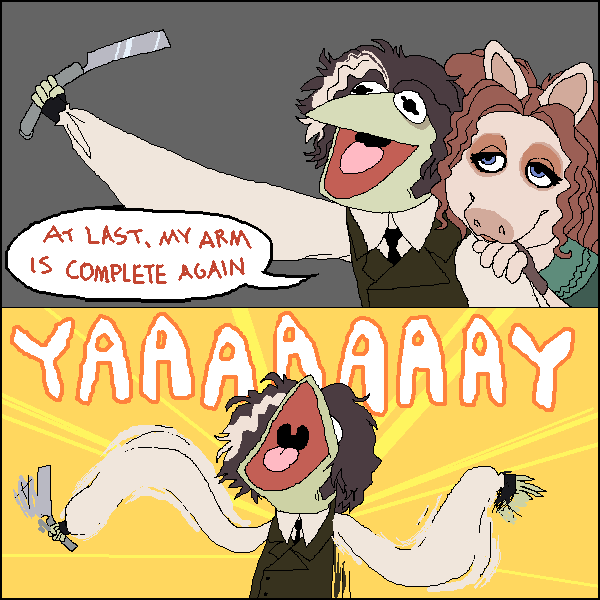 So I've been taking a break from the internet. I just needed time off the computer to focus on real life.
Current Mood:

mellow
I have to move by August, and I haven't had much luck finding apartments, because I don't want to move before June 15. I also don't want to pay crazy broker's fees and I'd like a nice kitchen. And a non-sketch area. This is a lot to ask for.
I just finished S2 of BSG and I am LOVING IT. I love the military based sci-fi shows (duh, ST anyone) and this one is excellent. AND ROBOT INVASIONS ARE SCARY. More on it later. After I gather my S2 thoughts. And my finger gets better.
(
CYLON GUESSES UNDER HURR
Collapse
)
ALSO THE HOTTIES ON BSG MAKE ME GO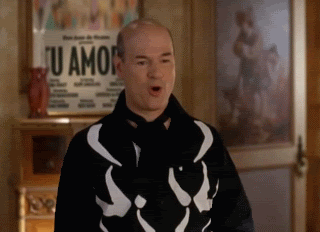 THAT WAS NOT A THINLY VEILED ATTEMPT TO USE THIS AWESOME NEW GIF THAT I HAVE USED APPROPRIATELY.
Right now it's difficult to type because I sliced my finger with a serrated knife on Friday... I don't think it's stitch serious, but it's interfering with EVERYTHING.
AND
liu_xing
COMES HOME TODAY AND I CAN'T WAIT TO SEE HER FACE.
Things have been going mostly well, I've just been super busy. And I have my petit four test tomorrow, and I am FREAKING OUT. Because I'm not the best at decorating those suckers. They taste amazing, but they're kind of messy.
However, she was smelling a little pukey. And she was making my bed smell a little.
So I did something I've never done with any other animal in my life.
I took her to the groomers. Which I think is a terrible waste of money, but I really am not able to give this cat a bath. I've tried. Twice.
I go in, and they ask me if I want a Lion cut. I go "Sure!" Sounds good to me, right? Lions are pretty, I have no idea, but if they're asking me, it must be a popular cut. So I drop her off, run some errands, and come back to get her two hours later.
(
if you laugh, I won't judge you
Collapse
)
FYT: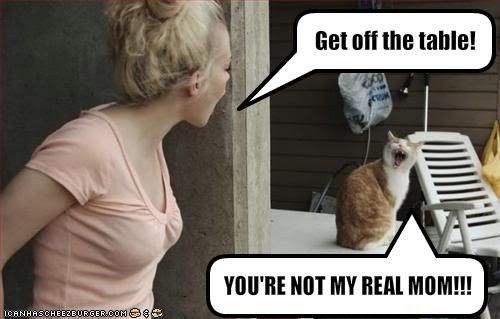 So my cat, Sapphire, was feeling sick 2 days ago. Really sick. She threw up 6 times in 6 hours. But she's okay now. I swear.
Dear 40-something man who lives in my building,
I have been very polite to you. This is because I am a polite person. This is also cause you have a really awesome gigantic parrot that you bring out to the courtyard. This parrot (Warlock) is big like my biffles parrot, except my biffles parrot is scary and has a demented sense of humor and doesn't let you touch her or you'll bleed. Your parrot is friendly, pretty, and lets me pet him. I like that about Warlock. In my effort to become pals with your cramazing parrot I have asked you questions about your day and have been friendly towards you. Also, you give Edgar (Ariel's dog) bones and he likes you, so of course you are a nice topic in our house because Ariel and I freaking love your parrot.
I don't know why or how you misconstrued this as flirting. It was so not. In fact, I'm just a friendly person. I love to make friends with babies, pets, and that totally awesome chick who works at the comic book store. I like to make friends wherever I go. And I don't want to be "the bitch of the building" so I'm nice to everyone in the complex (except for that rude man with the rape glasses, he's terrible to me and I ignore him). I talk to you the same way I talk to the lovely 80-year-old man who dresses so fiercely.
I'm not flirting, and you're creeping me out.
Ta!
Pipz
Seriously. This is not okay. Really not okay. Look, he's a very nice man, good-looking but not in the silver fox kind of way. It's really annoying to have pleasantries confused for flirting.
Sigh. Basically men all around the world should realize that if I am talking to you in a normal, pleasant manner, I'm clearly not interested. If I cannot form a coherent sentence around you, you're good to go!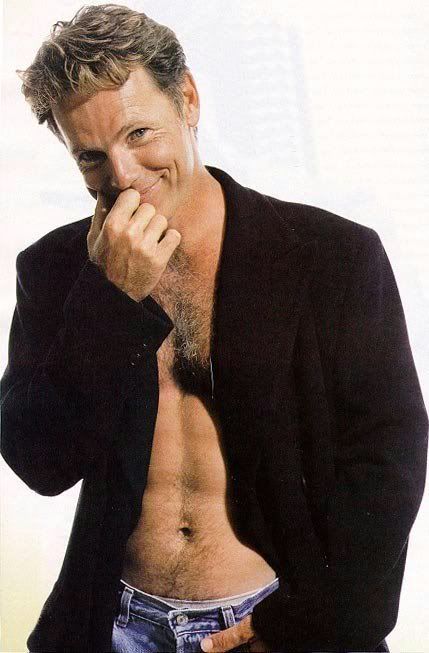 WHY CAN'T YOU LIVE IN MY BUILDING. IF THIS MAN LOOKED LIKE/WAS YOU, BRUCE GREENWOOD, INSTEAD OF WRITING THE LETTER ABOVE, IT WOULD GO LIKE THIS AND I WOULD'VE SLIPPED UNDER HIS DOOR TWO YEARS AGO.
DEAR HOTTIE IN MY BUILDING,
YOU CAN HAVE ME. ANYWHERE. JUST WANTED YOU TO KNOW.
TA!
PIPZ
P.S.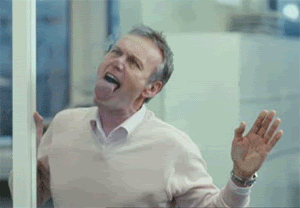 Seriously, Bruce Greenwood, Anthony Head, Chris Eccleston, and Hugh Laurie, these
men
silver foxes need to
Current Mood:

frustrated

Current Music:

"Cupid" Sam Cooke
So I'm done with the bread section in school, which makes me really sad because that's been my favorite, and I find Petit Fours frustrating with their petiteness and tiny, tiny decorations. Petit Fours, you are not in my future.
In other news, I had this stuck in my head last class.
And now I want it to be stuck in yours. Cheers!
Luckily, my partner is also from the DCOM generation, and she knew the song, and we spent three minutes trying to remember the bands name. We remembered Protazoa, but Microbe was so easily forgettable.
ALSO, where can I find streaming eps of Doctor Who? But part of me doesn't want to spoil the Angels and River by watching it on my computer. But I did hear she had fierce red
shoes
.
Updating? Oops?
Current Mood:

relaxed
The best of all has to be
ms_creant
She MADE me a necklace, pics to come later, you should totally buy jewelery from her. She also sent me Rice A Roni and Ghirardelli chocolate. San Francisco Treats! I miss her bunches but getting hilarious gifts in the mail is just as awesome. Those are my favorite kinds of gifts.
To all of you who sent well wished to me today:
I think that really is my favorite gif to use. And an extra thank you to
ladythana
and
sparkly_stuff
who sent me a virtual puppy! He is my squishy.
Tonight I'm hitting the town with some friends, dollar pizza may or may not be involved.
Guys, I really appreciate having you in my life, my NYC friends, my Party Biffles, my friends back in CA, and all my GQMFs from _ST.
I LOVE YOU ALL AND I WANT TO BE WITH YOU ALWAYS OOOOOH LOVE
ALSO, Susie Mosher (the funniest woman in the world, she and Catherine Tate can duke it out) wished me Happy Birthday on FBook, and I basically fangirled out. She's my idol. My idol that I have actual conversations with and cares about me. And we're FBook friends. And buddies. No biggie.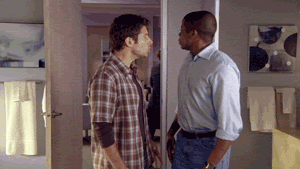 But really though, it was really nice of her. :DDDD
It's my birthday! I feel very loved and blessed by everyone in my life.
Current Mood:

excited